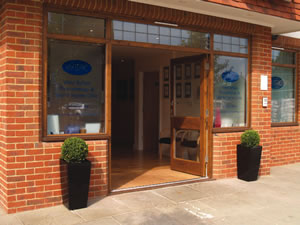 The West Byfleet Physiotherapy Clinic (WBPC) opened in 1996 and since that time has grown and developed into a thriving centre of excellence for out-patient physiotherapy.
Hilary Aiken (Director) and the team of highly skilled Chartered Physiotherapists bring many years of expertise to the clinic, having gained much valuable experience in a variety of different physiotherapy fields.
The clinic was relocated to a purpose built building in 2008 and situated on the ground floor of the Stratford House building, as well as being located next to the West Byfleet Station. The clinic is now in an ideal location for ease of accessibility.
Our Values:
Putting the patient first
Treating all people equally with respect, dignity & understanding
Using our skills and resources wisely
Fostering a culture of continuous learning
Ensuring workplace H&S and promoting personal wellbeing
Committing to work as a team
Acting with honesty, integrity and in the best interests of all at WBPC
WBPC is open daily with evening and Saturday appointments available, often within 24 hours. Please call us on 01932 341114 to book an appointment or to make enquiries about your condition and the treatment options we have available for you.